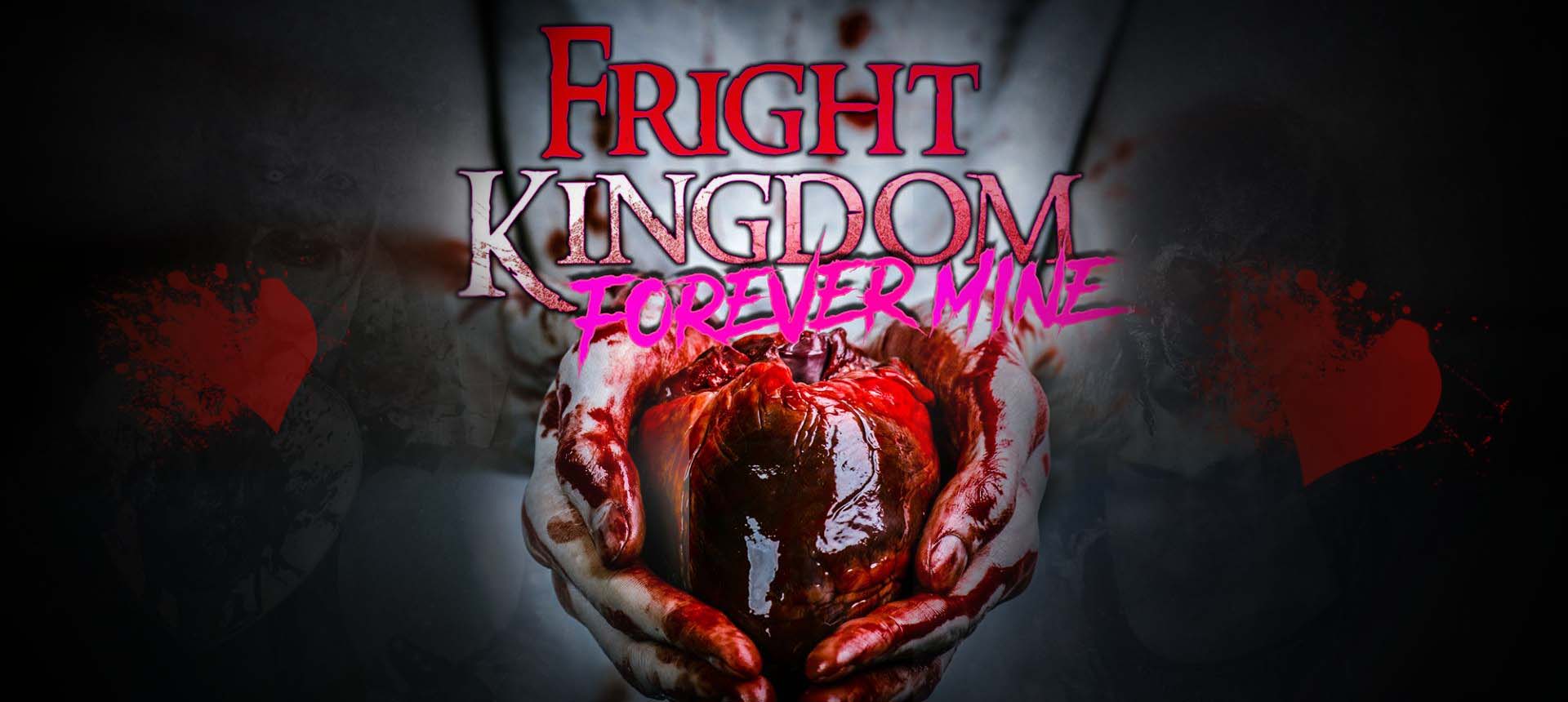 LIMITED TICKETS EVENT SOLD OUT LAST YEAR!
6 Separate Seating Times available! Ticket Options Below!
Ticket Prices $59.99 each includes Dinner & All 5 Haunts
Watch as our midway will be transformed into a devilishly delightful dining area where you and your loved ones can enjoy your FINAL FEAST… then stay close as you brave the 5 Fright Kingdom attractions you have grown to love in October, with a few love twists thrown in!!!
Tickets for this event will be very limited and are being sold online only. This is a timed ticketing event, thus select the event timing that works best for you and plan to arrive at the start time of your show.
Fright Kingdom's Exclusive Valentine's Day Event!
Dinner + 5 Haunted Houses!
Tickets are only available online and in limited supply!
Choose a Time and Buy tickets now below!
Dinner Menu
Chicken Parmesan
Garden Fresh Salad
Pasta w/Homemade Meatballs
Fresh Rolls & Butter
Cookies, Brownies, and Cake
Choice of Soda or Water
***Vegetarian Option Available***
6PM Seating
$59.99 Ticket includes Dinner and All 5 Haunts!
Click the button below to purchase Tickets
[vc_btn title="BUY TICKETS" color="danger" size="lg" align="center" i_icon_fontawesome="fa fa-ticket" add_icon="true" link="url:https%3A%2F%2Ffrightkingdom.fearticket.com%2F||target:%20_blank|"]
8PM Seating
$59.99 Ticket includes Dinner and All 5 Haunts!
Click the button below to purchase Tickets

[vc_btn title="BUY TICKETS" color="success" size="lg" align="center" i_icon_fontawesome="fa fa-ticket" add_icon="true" link="url:https%3A%2F%2Ffrightkingdom.fearticket.com%2F||target:%20_blank|"]
9:45PM Seating
$59.99 Ticket includes Dinner and All 5 Haunts!
Click the button below to purchase Tickets

[vc_btn title="BUY TICKETS" color="pink" size="lg" align="center" i_icon_fontawesome="fa fa-ticket" add_icon="true" link="url:https%3A%2F%2Ffrightkingdom.fearticket.com%2F||target:%20_blank|"]